How to Improve Ecommerce Customer Experience in 2022 and Beyond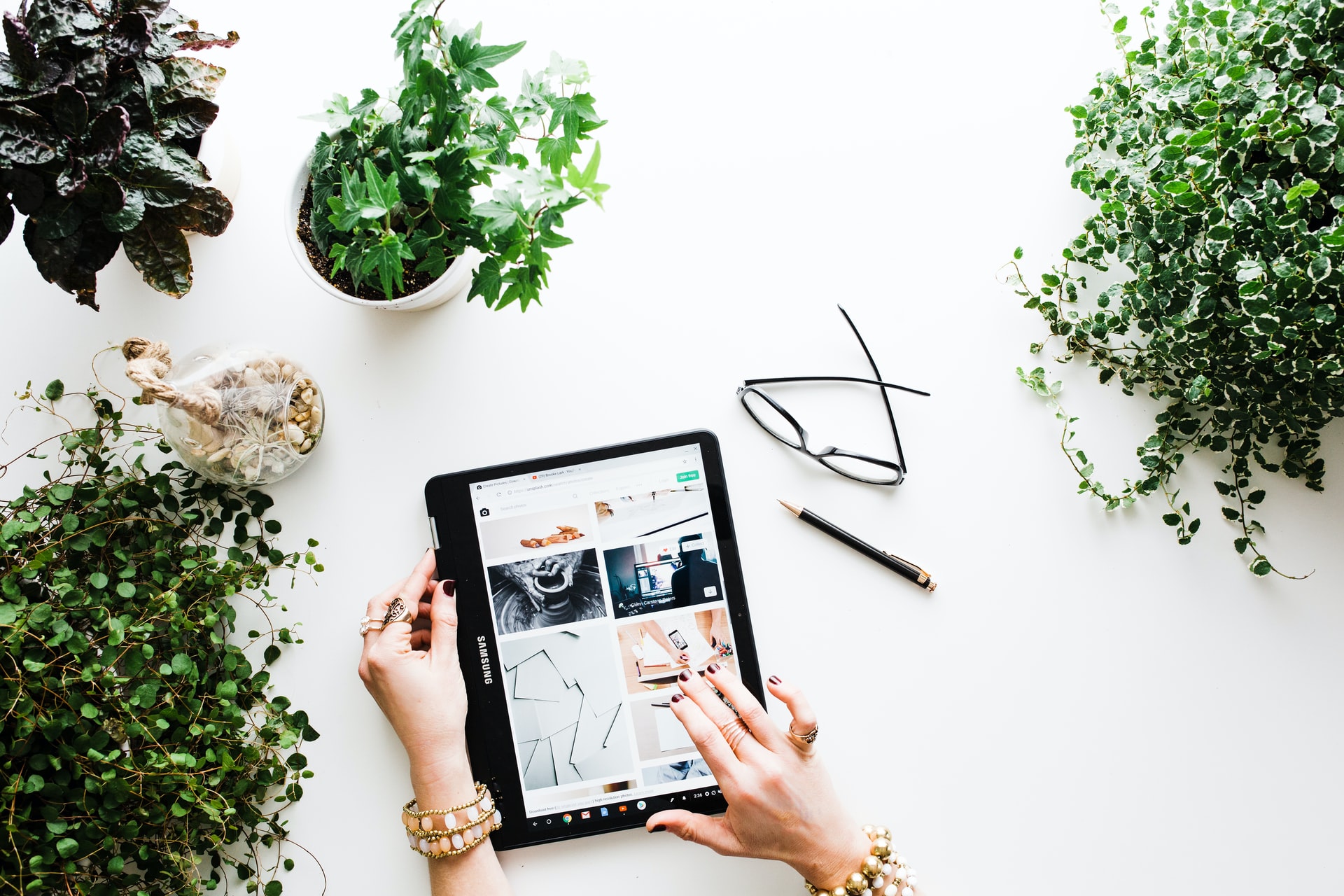 Investing in customer experience is one of the best ways to help your brand grow. After all, positive CX isn't "just" a significant factor for consumers' buying decisions. More importantly, it's one of the elements that encourage customer loyalty – which is what you want to be focusing on if you plan on staying in business for the foreseeable future.
But what will it take to improve the eCommerce customer experience in 2022? The following are a few strategies you should consider implementing in the new year.
Expand Availability
The reality of online shopping in 2022 is that people are far more comfortable with it than they were before the Covid-19 pandemic.
Over the past two years, consumers have gotten used to the convenience of eCommerce. Online spending in the US grew an astonishing 32.4% between 2019 and 2020. And the trend is likely to continue in the same direction.
The thing is, people aren't just shopping more online. They're purchasing products on more platforms than ever. For example, PWC found that 41% of consumers shop daily or weekly via their smartphones. Moreover, McKinsey predicts omnichannel retail to be the future of shopping, meaning that brands will have to provide a seamless shopping experience in their brick-and-mortar stores, websites, apps, social media accounts, and various sales platforms.
So, as you consider ways to improve the eCommerce customer experience in 2022, start by investing in availability. Make sure that you use all the sales channels available and keep an eye out for new developments.
Use Automation (But Retain a Human Touch)
One excellent way to boost CX (without making a dent in your budget) is to consider tasks you could automate.
A chatbot, for example, like the one used by HelloFresh, is a super helpful piece of tech to add to an eCommerce site. This brand partnered with Chatfuel and created a bot that decreased response times by 86%. The bot works by introducing itself to consumers, offering ways to help, and, if it isn't successful at providing an answer, it connects consumers with a human customer service operator to ensure the best possible buying experience.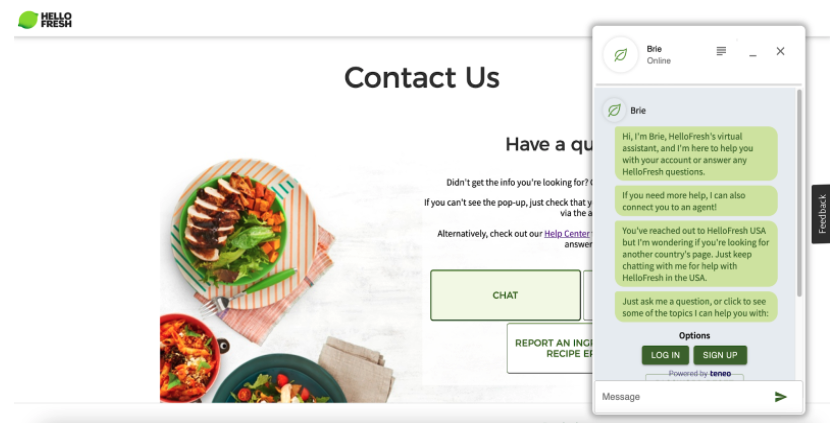 Source: hellofresh.com
Bots' implementation in digital services allows the user to be guided in the purchase or answer any questions at the time. As specialists in digital services, we have developed our own bot to improve the experience of sports portals from major international brands.
Identify & Remove Common Frustrations
Another great way to improve eCommerce CX is to look into your store's performance and identify pages that lead to high bounce rates or frustration.
Perhaps there's a common question you keep getting. Could you provide an answer on your product page? Or, you might find that many of your web visitors leave your site without making a purchase because it's not optimized for self-service?
In 2022, you will want to find ways to make the shopping experience as seamless as possible. For example, Mix has an interactive service customization feature on its booklets page. By doing this, the brand is helping potential buyers get the service they need all without having to go through extra steps or wait for a response from the company's sales team.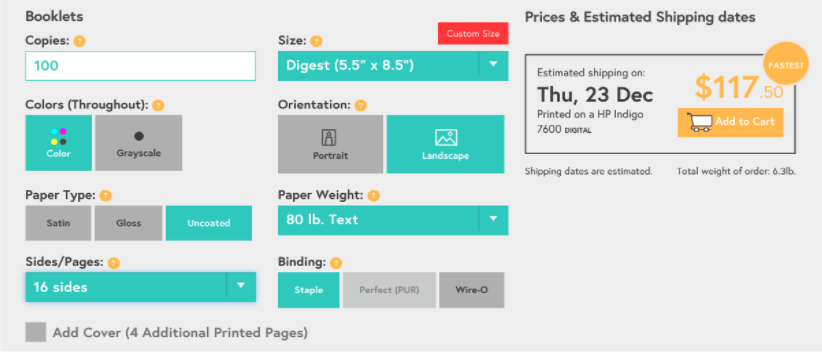 Source: mixam.com
Another example of an eCommerce brand meeting consumer expectations comes from Future Kind. This brand clearly understood that its products weren't something consumers would buy just once, as supplements are usually taken for a more extended time. So to remove unnecessary steps from the buying journey, they set up a simple monthly subscription option that sends out a new bottle every month, as shown on their Vegan Omega 3 page below.
We are big fans of subscription models; we have named the movement: Subscronomics.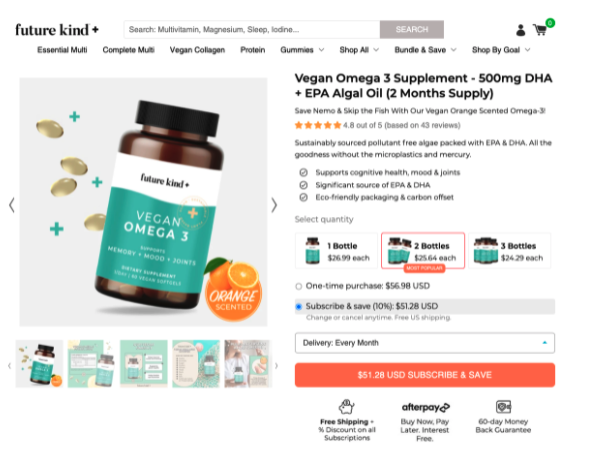 Source: futurekind.com
Show That You Care
Research from December 2021 shows that a growing number of consumers are making buying decisions based on brand values.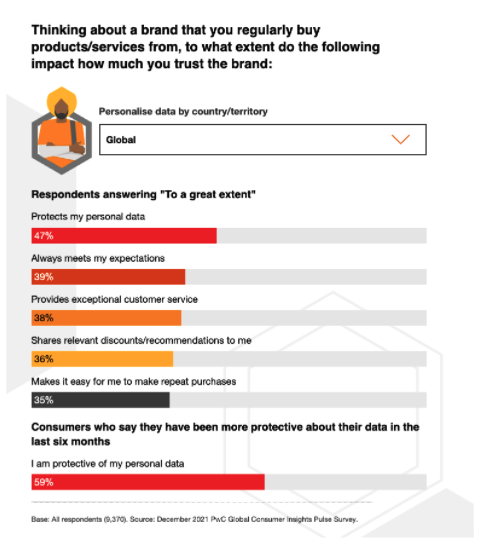 Source: pwc.com
Most people care about sustainability, transparency, supporting local communities, and shopping with companies that care about their staff.
With this in mind, one super-effective way to connect with website visitors and make them feel better about choosing you is to be vocal about the causes your brand supports.
Help First-Time Buyers Get Precisely What They Need
One prevalent problem with online retail is that most eCommerce stores offer free returns to attract customers. In fact, 67% of consumers check a brand's return policy before buying. But the thing is, free returns come at a high cost, especially seeing that at least 30% of all items purchased online are sent back. This is usually due to fit issues (70%), defects (65%), or the products not matching the description (49%).
 With this in mind, brands should look for ways to minimize the number of returns made. And the best way to do this is to focus on the customer experience.
 One way to boost CX in eCommerce stores is to help consumers make better purchasing decisions regardless of their position in the sales funnel.
Build Trust
Last but not least, as you explore strategies for improving the eCommerce customer experience in 2022, don't forget that trust is turning into a scarce resource in today's market. As a result of the pandemic, people are less likely to trust institutions and governments. So now, businesses must ensure they retain their target audience's hard-earned trust. Ecommerce brands need to explore methods for proving that they are reliable.
Like the ones on the Homestead Supplier site, displaying trust signals is a great first step.

Source: homesteadsupplier.com
As you can see, there are various ways to improve the eCommerce customer experience in 2022. But the most efficient one's rest on the pillars of accessibility, convenience, and transparency. Cover these bases, and you're guaranteed to see an increase in customer acquisition and retention. If you ignore them, on the other hand, you'll quickly find yourself struggling to beat the competition. Remember, eCommerce is becoming an irreplaceable part of people's shopping habits, so competition will only get tougher.
Natasha Lane, who specialises in writing about design, branding, digital marketing and business growth, has collaborated with us on this post.
 Subscribe for
Weekly Stories