Yesterday, our Infoempresa.com's team presented the new zoom of its international study in partnership with The Bristish Chamber in Madrid. In this edition, our analysts set the spotlight on the UK: "United Kingdom, a strategic partner for Spain". The event took place at Estudio Jurídico Ejaso, which kindly hosted the presentation.
Among the attendants, there were a number of Spanish and British companies based in Madrid. It was a great opportunity to engage in an extremely enriching debate concerning Spain and the UK's current business relations context. This was done through the portrayal of three perspectives: UK's interest in the Spanish business landscape (Infoempresa.com, our financial information web service), UK and Spain's tax regulatory framework (Complutense University) and a real case study of a Spanish company's experience in the UK market (Develapps).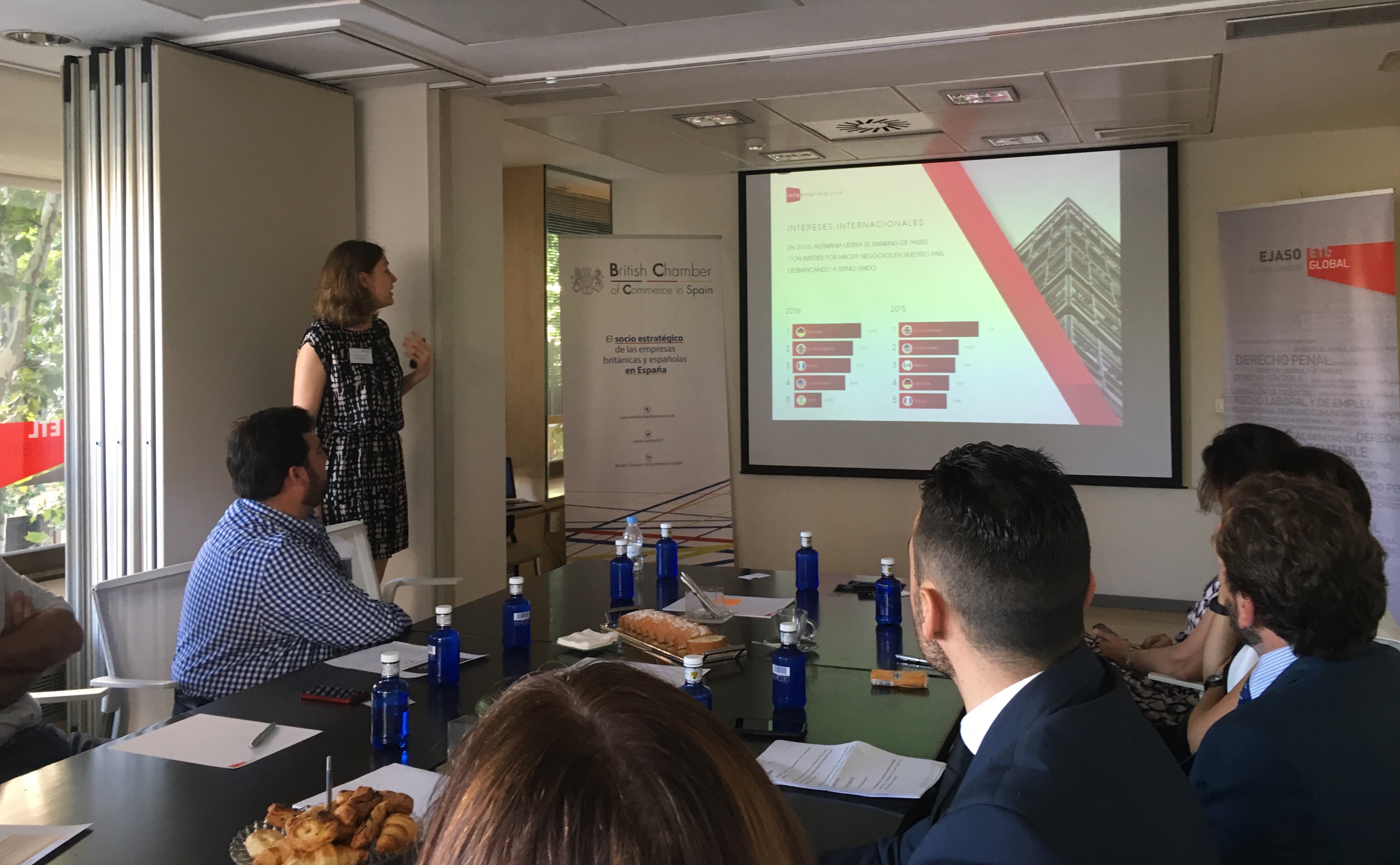 The presentation was focused on the study's key highlights, including the fact that in 2016 the United Kingdom rose to a second position, among the list of countries which portrayed the biggest interest in Spanish companies. The United Kingdom thus consolidates its position as a key strategic partner for Spain.
Additionally, Jose Manuel Almudí, Associate Dean of the Complutense University in Madrid looked into the fiscal relations among both countries and shared his expertise in matters of taxation. Finally, Develapps, a Spanish company specialized in app developments, took part portraying the numerous advantages derived from Spain and UK's business collaborations through their experience.
Overall, the presentation was an excellent opportunity to further promote and showcase an extremely advantageous business relationship. We are really grateful with our partners and with all the attendants, who engaged in the conversation regarding UK and Spain's commercial relations.