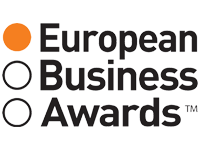 We are the Spanish National Champion within The Employer of the Year Award category in the European Business Awards (EBA) 2017 edition! The EBA acknowledges the most innovative, ethical and successful business practices within the European Business Community since 2007.
The European Business Awards are widely known as the showcase for Europe's most dynamic companies and we are proud to be recognized at this level. From 9th January to 1st March, you can help us go through to the second stage of the competition with your vote. You may watch our corporate video and vote through this link.
On the coming weeks, the EBA´s judges will analyze the videos and entry forms, including ours, in order to deliberate on the 110 Ruban d´Honneur recipients. We would be thrilled to achieve this recognition.
Therefore, if you share our values and are aligned with our philosophy, vote for us. We are excited and proud for this new acknowledgement and we are looking forward for your support!