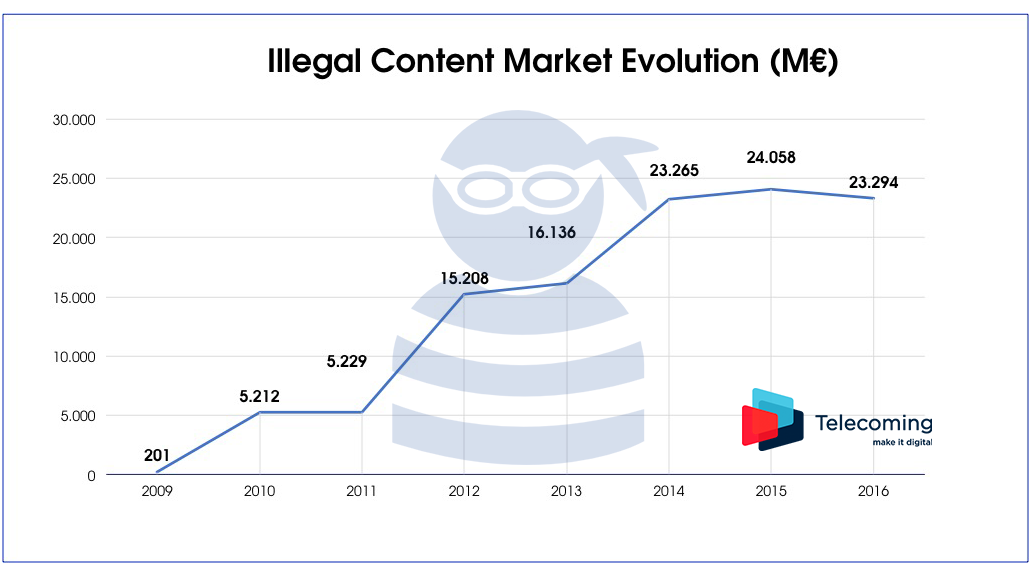 90% of digital content consumption in Spain is illegal, according to the Spanish Creators Coalition's latest study. As content producers and distributors, we are fully aware of the overall scope of this severe problem.
The scourge of piracy affects all industry actors involved. However, the latest market data portrays that 2016 has been the first year in which both, illegal content value and volume have dropped in the Spanish market. According to the Spanish Piracy Observatory and in line with Gfk´s latest analysis, there are a series of facts worth highlighting:
The Illegal Digital Content Market Size Drops
In 2016, 4.128M digital contents were accessed illegally in Spain, a 4% drop in relation to 2015. Illegal digital contents entail a 23.294M€ value (-3% compared to 2015). For the first time, the content volume and value have dropped, breaking the sustained upward trend of the last 7 years.
Movies, music and games make up the bulk of the illegal access to digital content in Spain. More precisely, all together, they represent 79% (18.310M€) of the overall illegal digital content market.
David Murillo, our Head of Innovation & Design explains: "The whole content industry is facing a serious enemy, against which we must all work together. Content quality, user experience and the payment process determine the user's will to pay for a given content. We must all be aware of this, since it's our strongest weapon against piracy".
Loss of Earnings as a Result of Content Piracy
In spite of the drop of illegal online contents access, the gains derived from piracy increased by 6.8% in 2016.
The movie industry is without doubt the one to experience the most remarkable profit loss in Spain. More precisely, in 2016, 573M€ were "stolen" from it. Music is the second most stricken industry, with a 414M€ loss. The third most affected party is the video games sector, which lost 247M€ in 2016.
68% of consumers believe that the most effective move against piracy would be to block web access, whilst 61% believe that punishing the providers is the solution. In our opinion, the truth is that we must all face the fact that a collaboration between all sector actors is an essential premise with which to achieve a piracy free scenario.