Infoempresa.com, our financial data web service, has launched the 2nd edition of its study "International Interests in the Spanish Economy, 2017", based on a sample of 430.000 international users.
Infoempresa.com promotes financial information consumption and presents this study in order to generate awareness on Spain's role as a strategic commercial partner, both in the European Union and at an international level.
3 main conclusions may be drawn from this report:
Germany unseats UK as the Country with the Most Commercial Interest in Spain
Germany is without doubt at the forefront of the overall international commercial interest in Spain. The country registered 13% of the overall visits related to Spanish companies in 2016, followed by UK (11.9%), France (11.3%), United States (8.4%) and India (4.4%).
It's worth highlighting that the EU countries' interest in Spanish companies has increased by 14 points in 2016, while Latam's dropped (from 29% in 2015 to 12% in 2016). In this sense, 60% of the approaches towards Spanish companies came from EU professionals.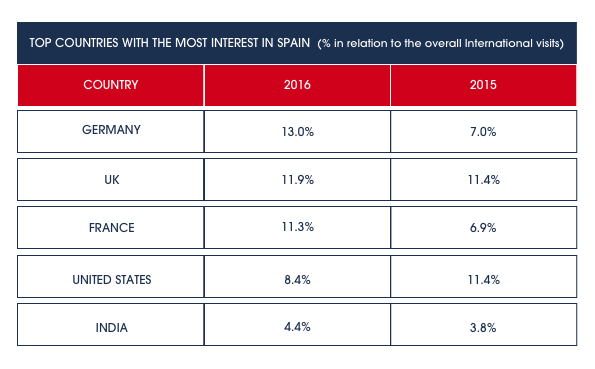 Startups grew the most in 2016
In spite of the fact that 60% of the overall searches were aimed at consolidated companies (with over 10 years of existence), in terms of growth, interest in startups (0-5 years old) experienced a remarkable rise in 2016. More precisely, in the European Union, almost 30% of the visits were exclusively focused on this type of companies.
Trade concentrates the biggest interest in 2016
27.4% of the overall visits carried out by international professionals were focused on trade, which is the leading sector, interest wise. It grew by 4.5 points, compared to 2015.
In addition, the sectors which have experienced the biggest drop are: Professional Activities (-2.1 percentage points), Finance and Construction, which have both decreased by 1 percentage point each.
Overall, Spain continues to be an interesting business spot among European professionals and entrepreneurs. Infoempresa.com wants to keep its commitment with the further promotion of Spain's commercial relations abroad.
You may access the complete study here.