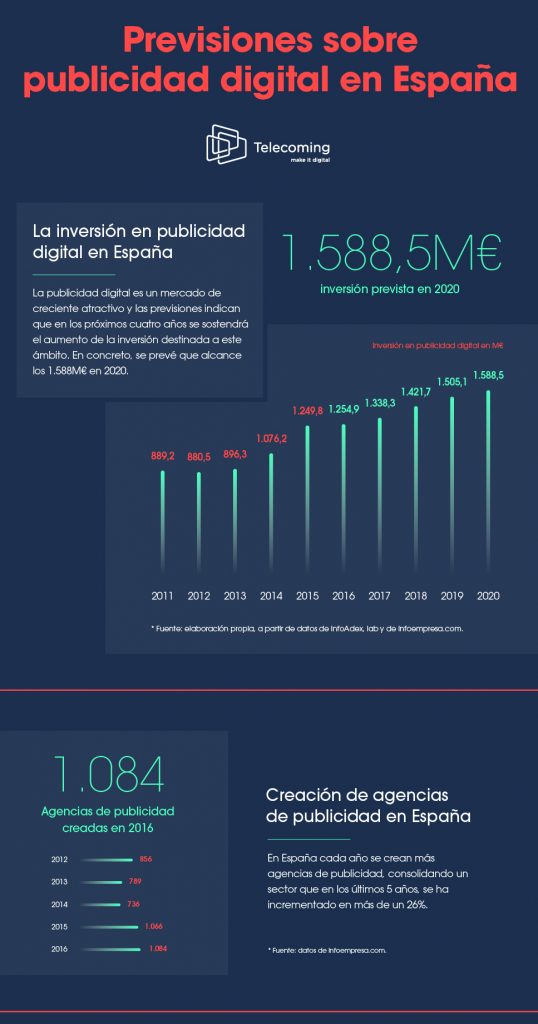 Telecoming´s advertising division plays a decisive role in our company. The team is fully involved in sector research and analysis with the aim of mapping and understanding the market´s perspectives. With this objective, our experts have analyzed the digital advertising industry in Spain that has kept a sustained growth since 2012. Among the most relevant highlights, our analysis has portrayed that the digital advertising investment will surpass 1.588M€ in 2020.
In addition, it´s worth noting that the smartphone is forecasted to become the first device in terms of browsing for 99.1% of the users in 2020. In this sense, the personal laptop will become the device that registers the least Internet browsing. Only 18.6% of the users will connect through this device by 2020, according to our experts.
Finally, investment in programmatic advertising is expected to surpass 58M€ in the first semester of the year. This entails a 20% increase compared to the same period last year. #ProgrammaticTime
The team led by Carlos Buil, our CMO, is extremely committed with sector knowledge promotion and will carry on monitoring the digital advertising sector´s upcoming highlights.
If you want to access the complete infographic click here