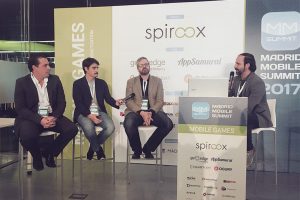 This week we have taken part in the first edition of Madrid Mobile Summit (MMS) and it has been a good opportunity to engage with our local partners and stakeholders. Payments and content monetization have become central issues and have been addressed through different perspectives along the numerous panels which have been held, during the two-day event.
On Tuesday 14th and Wednesday 15th the event premises brought together mobile sector actors willing to engage, network and share their market visions on the mobile ecosystem. Madrid became a flawless scenario for an ambitious first edition of the Summit in Europe.
Telecoming is an active member of the mobile community in Madrid and we didn't want to miss the chance to portray our mobile payments approach. For this reason, our Chief Operations Officer, Roberto Monge participated on a panel focused on Mobile Payments Trends and Future in which he addressed the Direct Carrier Billing (DCB) angle. It presents the best alternative for the mobile users, due to its simplicity and its ability to increase conversion rates.
The panel was moderated by Alberto Payo, Cofounder and Editor in Chief of Applicantes and also incorporated Revolut's General Manager's perspectives as well as El Español's Business Editor in Chief's insightful market diagnosis. The participants discussed the different challenges faced by today's publishers and they also reflected on new technological contributions to the mobile payments landscape.
We want to thank the organization and all the attendants for a lovely experience!