It's undoubtable that online purchases and digital content consumption are familiar realities which are here to stay. Nonetheless, not so long ago, the Internet user's consumption habits were, by far, different to those that have installed in their everyday lives over the past years. For instance, 78% of Internet users in 1996 had never carried out an online purchase.
The smartphone has been a decisive device which has broadened internet connection opportunities and changed the user's digital content consumption routines. This idea pushed us to analyze the Spanish internet user's transformation over the last 13 years. This evolution has been tracked from the data collected by the AIMC on internet users as well as from Promusicae´s most recent market figures. We have also paid special attention to the changes in the Spanish user's attitudes towards payment vs free digital contents.
The following are some of our key findings, which you may further explore, by accessing our full report:  Assessing the Spanish Internet User's Maturity.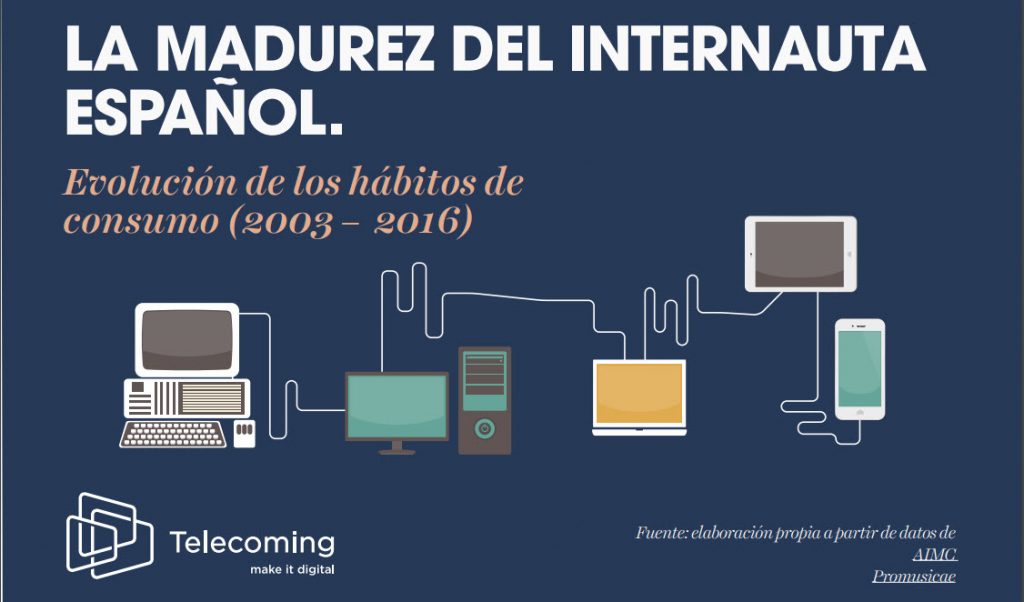 The frequency of Online Purchases has drastically increased
The credit card remains as the preferred payment method for 85% of Internet users during 2016,  followed by payment platforms (50%), money transfers (11%) payments on delivery (9%) and the mobile phone (3%). Moreover, 44% of Spanish Internet users have made some sort of online purchase over the past week. This is extremely remarkable given that 20 years ago 78% of the Internet users hadn´t ever bought online.
The Mobile Phone was the only Payment Method which grew last year
Between 2015 and 2016, credit cards, together with payment platforms grew by 5% and 10% respectively. However, their growth among users freezed in 2016, leaving the smartphone as the only payment method to have experienced growth.
User's preference for Paid Digital Content is Rising
Exciting user experiences and high content quality are becoming the new Internet user's consumption drivers. They are decisive for the paid digital content's gradual supremacy over free content. More precisely, free content viewing has dropped by 21% between 2011 and 2016.
We are proud to share our market views and we will carry on promoting insightful user – focused research which humbly contributes to a better understanding of the current digital contents' landscape. Furthermore, we are determined to share our insights on Internet users as a means to encourage sector know-how.